(Joshua Gilmore Staff Writer)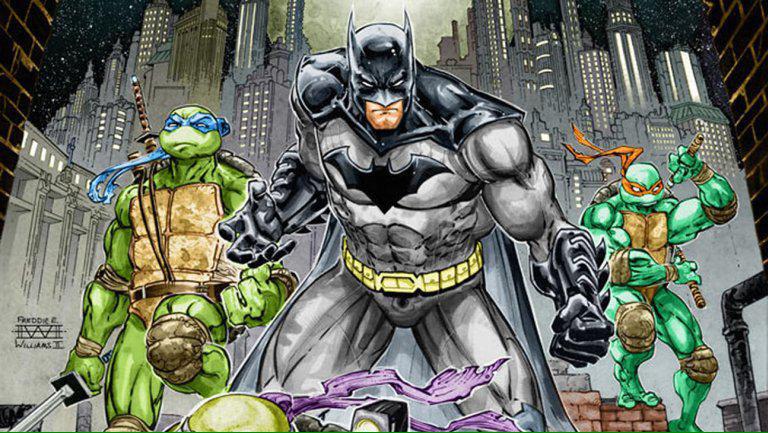 We still have a long wait until the dark knight rises on the big screen and faces off with the last son of krypton, but this November the Caped Crusader will cross paths with the heroes in a half shell. As announced during the recent San Diego Comic Con, IDW publishing and DC Comics will publish a crossover of Technodrome proportions.
In a six part miniseries, the Teenage Mutant Ninja Turtles and the arch rival Shredder will enter Gotham City, after being forced out of their own dimension by the evil Krang. As they battle to return home, the turtles and shredder will cross paths with Batman.
When this news broke, the hardcore and fair weathered comic fan understood the magnitude of this event. Each franchise has historic legacy behind their characters and they are not strangers to reinvention or crossovers.
"Batman is the world's most popular Super Hero. He continues to be reimagined and this new crossover showcases his ongoing appeal as a global pop icon for the ages," said DC Comics Editor-in-Chief, Bob Harras.
As Batman is not a stranger to reinvention, the dark knight knows his way around a cross over or two. The world of Batman comics have had a revolving door similar to the guest stars list from the 1966 Batman television series. The storied history of Batman crossovers range from his shocking interaction with the MARVEL universe to the world of Tarazan and many other characters in between.
In their over 30 year history, the turtles have had their fair share of epic events and universe crossing. In one of their most recent crossovers, the turtles entered the universe of the Ghostbusters (another highly popular IDW title) and their universe jumping can be traced back to their first interactions with Usagi Yojimbo in the pages of 1987's "Turtle Soup"
  As the comic book world waits for these issues to hit the market, we know the story will be written by James Tynion IV and artist Freddie E. Williams II will handle the art for this series. Also, the co-creator of the Teenage Mutant Ninja Turtles, Kevin Eastman and a yet-to-be name artist will create the variant covers for the crossover event.